You can not select more than 25 topics
Topics must start with a letter or number, can include dashes ('-') and can be up to 35 characters long.
README.md
Zrythm
Zrythm is a digital audio workstation designed to be featureful and easy to use. It allows limitless automation through curves, LFOs and envelopes, supports multiple plugin formats including LV2, VST2 and VST3, works with multiple backends including JACK, RtAudio/RtMidi and SDL2, assists with chord progressions via a special Chord Track and chord pads, and can be used in multiple languages including English, French, Portuguese, Japanese and German.
Zrythm is free software written in C using the GTK4 toolkit and can be extended using GNU Guile.
Current state
Zrythm is currently in beta. The project format is stable and we are working towards a v1 release.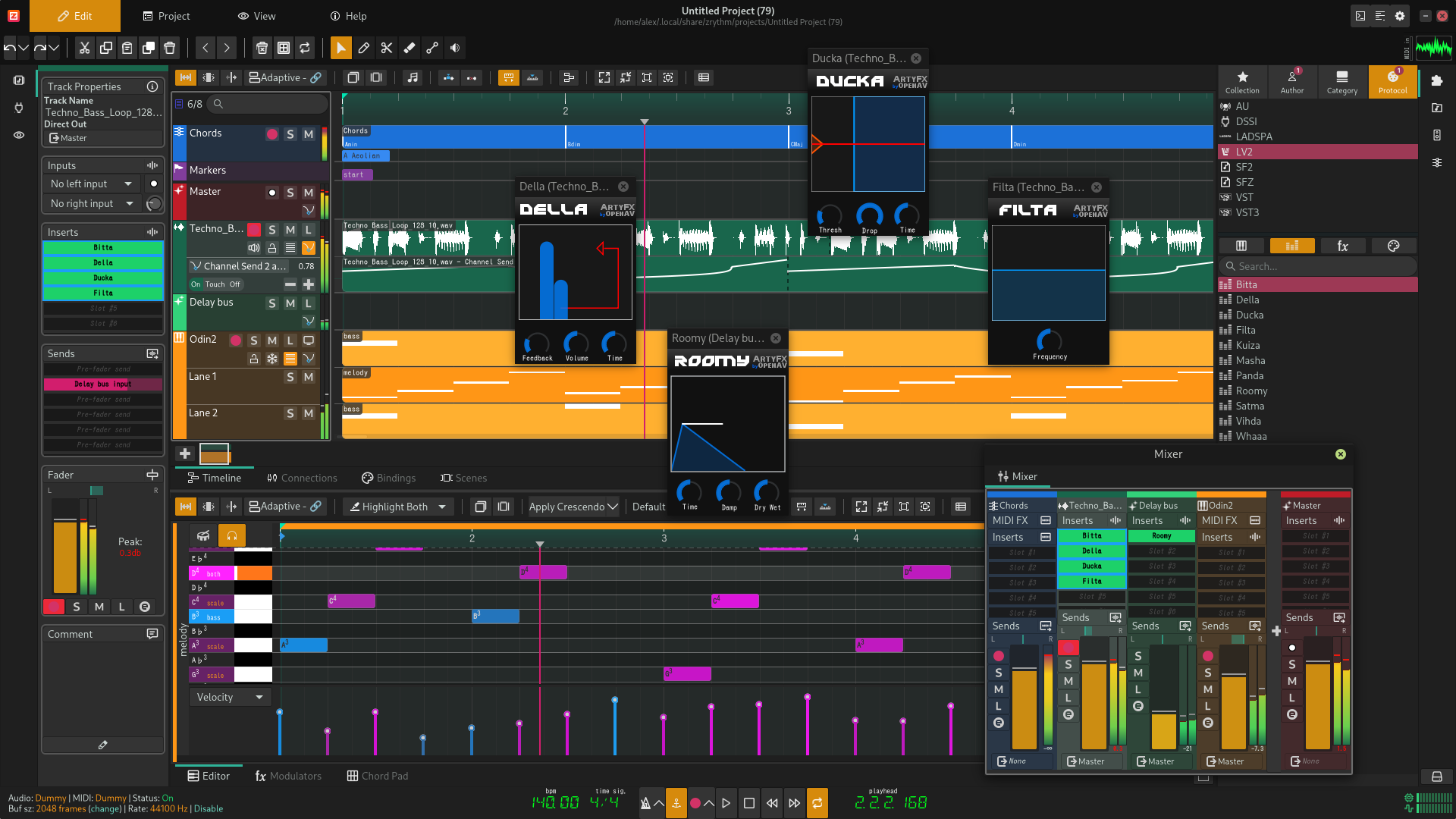 Supported plugins/instruments
Native support (currently disabled): LV2
Support via Carla: LV2, VST2, VST3, AU, SFZ, SF2, DSSI, LADSPA
Supported file formats
Audio: OGG (Vorbis), FLAC, WAV, MP3
MIDI: SMF Type 0, SMF Type 1
Supported backends
Audio: JACK (PipeWire), PulseAudio, SDL2, RtAudio (ALSA/WASAPI/CoreAudio)
MIDI: JACK (PipeWire), WindowsMME, RtMidi (ALSA sequencer/Windows MME/CoreMIDI)
Supported platforms
GNU/Linux, FreeBSD, Windows, MacOS
Building and Installation
See INSTALL.rst for build instructions. Prebuilt packages/installers available at https://www.zrythm.org/en/download.html.
Using
See the user manual.
Contributing
See CONTRIBUTING.md.
Hacking
See HACKING.md and the developer docs.
Packaging
See PACKAGING.md.
Mailing lists
Chat
Issue trackers
See the Feature tracker and Bug tracker.
Releases
https://www.zrythm.org/releases
Copying Zrythm
See COPYING for copying conditions and TRADEMARKS.md for our trademark policy.
Support
If you would like to support this project please donate below or purchase a binary installer from https://www.zrythm.org/en/download.html - creating a DAW takes thousands of hours of work and contributions enable us to spend more time working on the project.
Bitcoin (BTC): bc1qjfyu2ruyfwv3r6u4hf2nvdh900djep2dlk746j
Litecoin (LTC): ltc1qpva5up8vu8k03r8vncrfhu5apkd7p4cgy4355a
Monero (XMR): 87YVi6nqwDhAQwfAuB8a7UeD6wrr81PJG4yBxkkGT3Ri5ng9D1E91hdbCCQsi3ZzRuXiX3aRWesS95S8ij49YMBKG3oEfnr
---
Copyright (C) 2018-2022 Alexandros Theodotou
Copying and distribution of this file, with or without modification, are permitted in any medium without royalty provided the copyright notice and this notice are preserved. This file is offered as-is, without any warranty.